FEATURES
What's new in the latest version? Version 5.0.0.1996 August 21, 2014
1.Wifi Checkup: New router support (ZTE ZXV10 W300 Series,NetGear DNG1000, IntelBras WRN240i, IntelBras WRN300, Linksys X1000, Linksys EA6200)
2.Bug Fixes
Now

Version of the official version 5.0.0.1996 August 21, 2014

1. Wifi Checkup: New router support (ZTE ZXV10 W300 Series,NetGear DNG1000, IntelBras WRN240i, IntelBras WRN300, Linksys X1000, Linksys EA6200)

2. Bug Fixes
Version of the official version 5.0.0.1977 August 12, 2014
1.Added malicious Website Blocking for Firefox
2.Russian Translation Adjustment
3.Virus Scan: S upport new Win32Kido variants
4.Wifi Checkup: New router support (D-Link 600, D-Link 905L, Linksys E900)
5.Download File Scan: New downloader support (LeechGet, Lightning, Dmaster, Orbitdm, FlashGet3)
Version of the official version 5.0.0.1960 August 2, 2014
1. Added Russian Version
2. Bug Fixes
Version of the Beta version 5.0 July 7, 2014
1.Active Protection
1.1 Added Webcam Protection
1.2 Added USB Drive Protection
1.3 Added Keylogger Blocking
1.4 Added File System Protection
1.5 Added Registry Protection
2.Added Silent Mode(Game Mode)
3.Enhanced Malware cleanup capability
4.Enhanced Malicious Website Blocking
5.Sandbox - Windows 8 Support
6.Added Toolbox - Vote for your most wanted feature
Version of the official version 4.0.0.2065 June 12, 2014
1. Sandbox – Support Windows 8.1
2. Improve performance
3. Protection against IE Vulnerability "Snowman" (CVE-2014-0322)
4. Bug Fixes
Version of the official version 4.0.0.2048 May 30, 2014
1. Added Chrome support for malicious URLs blocking
2. Added Sandbox
3. Added Vulnerability patching
4. Added plug-ins clean up
5. Added Network protection
6. Added cloud analysis for unknown files
7. Added Optimization for network performance in Speedup
Version of the official version 3.0.0.1202 May 6, 2014
1. Added Wifi Security Checkup
2. Added Right-click Scan
3. Added User Feedback
Version Beta 2.1.0.1161 April 28, 2014
Bug Fix: Microsoft Security Center registered fixed
Version Beta 2.1.0.1157 April 21, 2014
Version Beta 2.1.0.1131 April 2, 2014
1. Added Active Protection
2. Added Self-protection
3. Added Real time protection
4. Added Bitdefender antivirus scanning engine
The First Version Beta 2.0.0.1326 February 25, 2014
Main features:
1. PC Checkup
2. Virus Scan
3. System Speedup
4. Junk Clean
5. Web Security Protection
6. Online Shopping Protection
7. Download File Scan
8. Avira antivirus scanning engine
9. Facebook sharing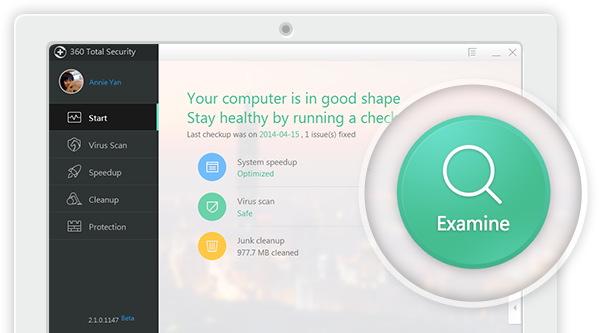 Checkup
Fast checking the overall condition of your computer's safety and healthy in one click.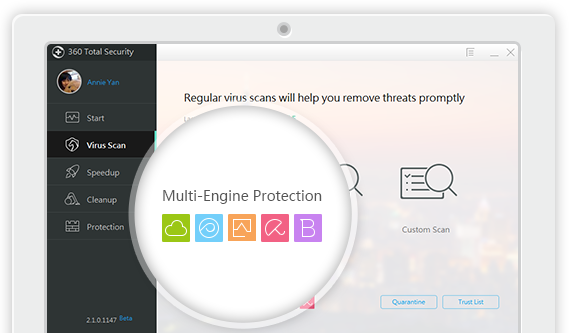 Virus Scan
Integrated five top award antivirus engines including 360 Cloud Engine / QVMII / Avira and Bitdefender to offer you complete protection and best detection.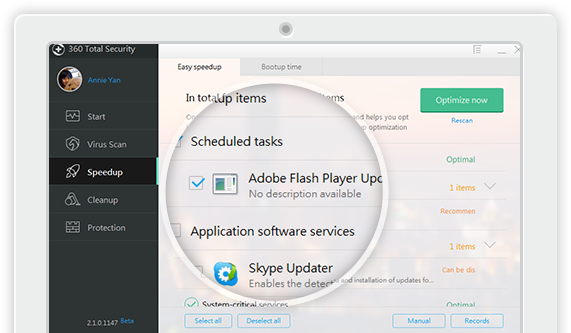 Speedup
Manage and optimize boot-up applications / plug-ins and services. Shorten your PC boot time, let it get ready soon.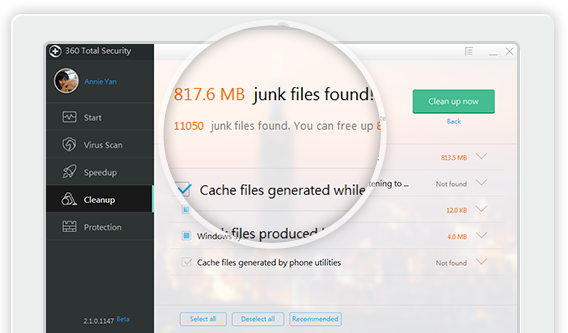 Cleanup
Helps you to save disk space, cleans junks from your computer and makes it run more efficiently.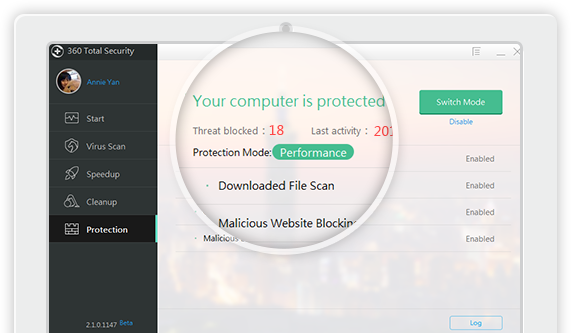 Protection
Protect your computer away from malware / phishing / backdoor and new type of threats via fastest and more intelligent cloud technology.
WHAT WE MAKE
CUSTOMER SUPPORT
For PC
For Mobile
Partner